We've historically divided the physician landscape in two parts: hospital-employed or independent. But over time, the "independent" segment has become more complex and inclusive of more types of groups who don't fit the traditional definition of shareholder-owned and shareholder-governed. Even true independent groups don't look like they once did, adapting in ways like receiving funding from a range of investors or adding more employed physicians.
So our standard way of thinking—hospital-employed or independent—has become obsolete. It's time for a more nuanced approach to a diversified market.
When the pace of investment and aggregation in the independent space picked up, we conceptualized the changes primarily in terms of funder: private equity, a health plan, a health system, or another independent group.
That made sense at the time because each type of funder was using similar methods to partner with groups—health systems acquired, private equity invested directly in the independent group, and so forth.
But the market has shifted such that remaining independent groups are both stronger and more committed to independence. So organizations who want to partner with these groups have had to refine and diversify their value propositions—and often times are doing so without all-out acquisition. For more information on themes within these funder organizations, see our companion blog.
We set out to make sense of an ever-changing independent physician landscape in a way that would make it easier to understand for both independent groups and for those who work with them. Instead of dividing the landscape by funder, we assessed organizations based on their level of autonomy vs. integration, their growth model, and their geographic reach.
The map below has five physician practice archetypes and is oriented around two axes: local to national and autonomy to integration. The four archetypes on the top are larger in scale than a traditional independent medical group, often moving regionally and then nationally.
The archetypes are also ordered based on the degree of physician and practice autonomy, with organizations on the right using more of an integrated and standardized model for care delivery and sharing a brand identity.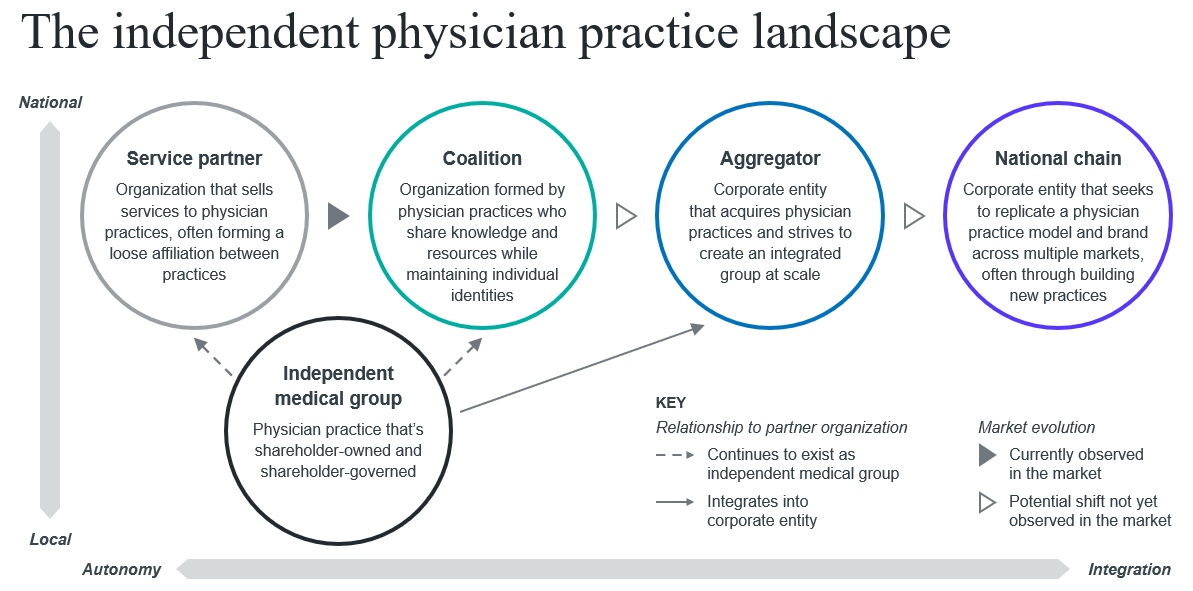 So far, we've tracked two types of trends within this landscape. First, as independent groups partner with one of the national archetypes, how does their identity change? In the current landscape, there are two options: those groups either continue to exist as both independent groups and as part of the corporate entity OR they get completely integrated into the corporate entity. (A note on this: at present, we have not seen national chains integrate existing independent medical groups—though they may in the future.)
The other trend we're watching is the evolution of some of these archetypes. We currently see service partners in the market shift to look more like coalitions. We assume we may see coalitions that start to look more like aggregators, and we know many aggregators have ambitions to function more like national chains.
Below you will find a brief description of each archetype as well as a more robust table of key characteristics.
Definitions of physician archetypes
Independent medical group
Independent medical groups are traditional shareholder-owned, shareholder-governed practices. They are governed by a board of physician shareholders, and shareholders derive direct profits from the group.
Service partner
A service partner is an organization whose primary ambition is to make profits through providing a service, such as technology, data, or billing infrastructure, to physician groups. This type of partner may create some sort of alignment between practices since it sells to like-minded practices (e.g., those deep in value-based care, within the same specialty), but that alignment is more of a byproduct than the primary goal.
Coalition
Coalitions are formed from physician practices who want to get benefits of scale without giving up any individual autonomy. They join a national organization to share resources, data, and/or knowledge, but each practice also retains its individual local identity and branding. Common coalition models include IPAs, ACOs, and membership models.
Aggregator
Aggregators are the most traditional approach to getting scale from independent medical groups. They acquire practices and usually employ their physicians. The range of aggregators is very diverse. It includes health plans, health systems, private equity investors, and independent medical groups who have shifted to become aggregators themselves.
National chain
We have historically referred to national chains as disruptors, but that name is inclusive of many organizations who are not physician practices and what qualifies as "disruptive" is ever-changing—so we needed a new name that better suited these groups. National chains are corporate organizations who develop a model (e.g., consumerism, value-based care, virtual health) and bring that model to scale, usually by building new practices or hiring new providers. These are highly integrated organizations, with each new location using the same care delivery model and infrastructure.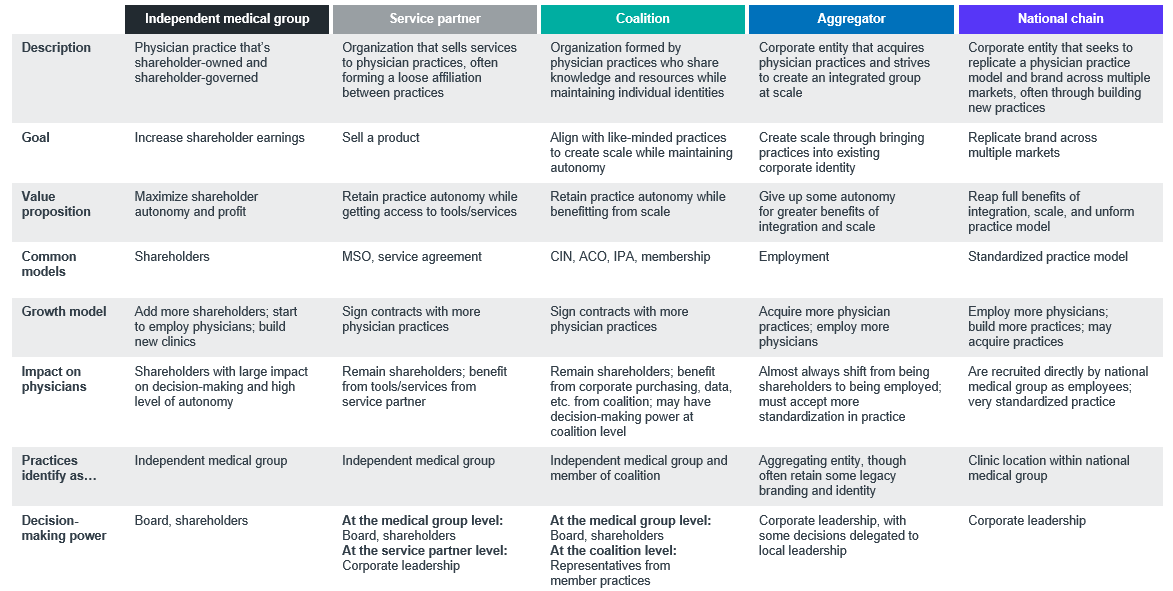 As the independent physician landscape evolves, it has implications not only for independent groups but for those who work with them. We hope that a shared terminology helps bridge some of the gaps in understanding this complex landscape.
For those who partner with independent groups, we'd suggest reading our companion blog for our take on the three biggest funders and questions to ask yourself to work successful with today's physician groups.