We recently shared an updated perspective on the independent physician landscape. Notably absent from this map, but an important player in this space, are entities, like health plans, private equity, and health systems, who partially or wholly fund some independent physician groups.
We intentionally left these funders off the map because they don't work in a uniform way with all physician groups. The reality is that funders have their handprints all over this map—and just knowing what type of funder you're working with doesn't necessarily tell you how they work with physician groups.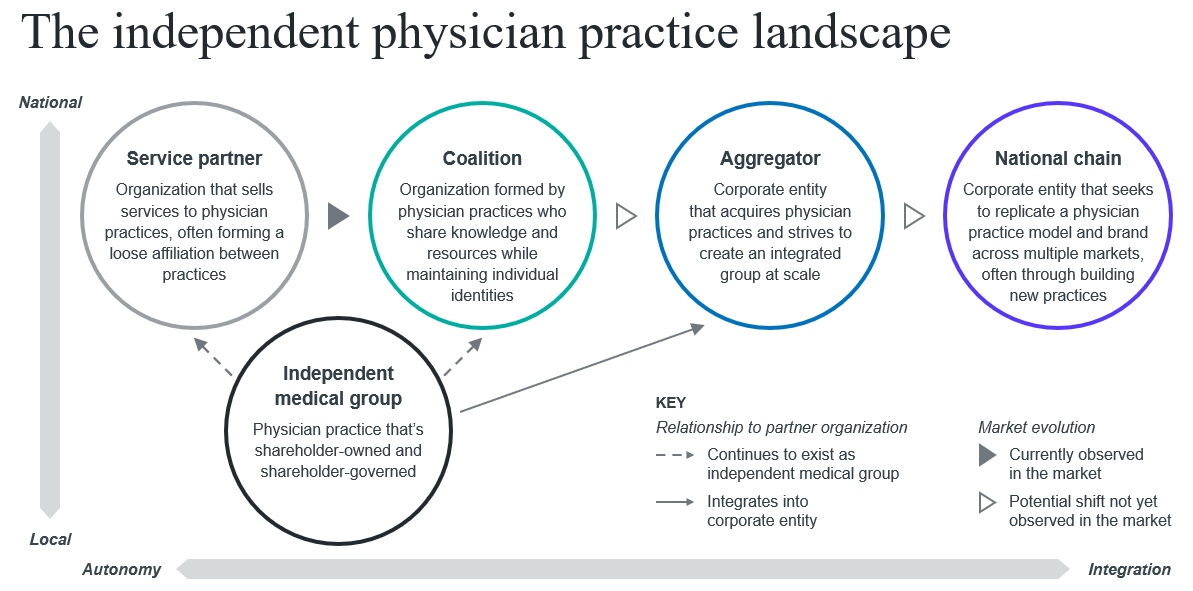 Funders work across the physician landscape because they recognize two things:
First, in order to play in today's physician market, funders need to be flexible in how they work with physicians in order to appeal to the wide variety of groups and build a bigger market presence.
Second, building or buying these physician group archetypes outright is not the only way to work with them. Many funders instead opt to invest in them—either through dollars or resources.
Key funders to watch
There are three key funders we track the closest: private equity, health plans, and health systems. Below are brief overviews of how they commonly work with independent groups and our predictions for where you might see them go next.
Private equity (PE): Consistent approach with still to be proven outcomes
The goal of PE firms is to make money on their investments. To do this, these firms buy shares of practices in order to have partial ownership. In return, physician groups get the capital they need to make investments—investments that in theory drive profits for both the physician shareholders and the PE investors. Unlike other funders, PE is rarely associated with full acquisition.
Two of the places we've seen the most private equity investment are in consolidation of specialty practices (usually at the national level) or value-based care investments in primary care practices (across all archetypes).
Private equity is gaining traction as a physician group partner because they often try to preserve some degree of physician autonomy and they've learned to nuance their investments and pitches based on the group they're seeking to work with.
We predict: PE will continue to back the full range of archetypes on this map—investing in both independent groups directly and the national archetypes.
What we'll be watching:
What will happen to the handful of major PE investments in the independent physician group space that will be reaching their 5-7 year mark
What level of physician autonomy will PE firms continue to preserve as PE gains stronger footholds in the physician landscape
Health plans: The most eager to transform (incrementally)
Health plans are often predominantly associated with a single physician archetype for a given plan. For example, when you think about UnitedHealthcare, you might think of their sister company, OptumCare, and an aggregation strategy. Or, you might think of Blues plans most commonly as service partners.
However, when you dig deeper, the story is much more nuanced. Plans and their parent companies like UnitedHealth Group do often aggregate practices, but they also sell and integrate services via service partner models. And several Blues plans are now building practices from the ground up. To top it off, some plans are even adopting an investment strategy like Anthem with Privia.
Perhaps more than any other funder, health plans often adopt a range of strategies to develop their physician strategy and maintain their existing networks. And even cases where plans aren't funding entities themselves, they're thinking of new ways to work with the growing range of physician groups.
We predict: Health plans will move away from a uniform approach to physician practice partnership and towards more multifaceted approaches to appeal to a wide range of providers.
What we'll be watching:
Will health plans diversify their suite of approaches based on the groups they're pursuing
Will health plans tailor their value proposition for each partnership approach
Health systems: Playing catch up to evolve
We often tend to think about health systems as aggregators—they buy independent physician groups and add them to their employed medical groups. But we're seeing two physician market shifts that are causing health systems to move away from a one-size-fits-all approach.
One, the remaining independent groups are growing in size and, two, they are less willing to be acquired. On top of that, as private equity firms and payers continue to diversify their strategies, health systems must adapt to keep pace—or risk being seen as the least attractive partner.
As a result, more health systems are telling us about their new approaches to physician partnerships, like starting an MSO to act as a service partner or convening coalitions between themselves and independent groups.
We predict: Health systems will face increasing pressure to diversify how they are operating with physician groups. Similar to health plans, we expect to see a pivot away from an aggregation-only approach. To learn more, read our take on how health systems and independent groups should think about partnership.
What we'll be watching:
How quickly will health systems stand up additional partnership approaches
Will health systems in markets where they're the dominant partner proactively adjust their partnership approach versus wait for the market to shift first
Your checklist to work successfully with today's physician groups
As you evaluate your partnership strategy, here's our starter list of questions to ask yourself:
Clarify your partnership goals:

What are my organization's goals for physician partnership broadly?
What are the archetypes I currently fund or partner with?
Do these archetypes serve my organization's stated goals?



Identify the right partnership approaches for your organization

What new archetypes should I build or work with to advance my organization's goals and target new physician groups?
Do I need to build this archetype myself or is it better to fund one that exists?
If funding, should I wholly own or invest in the archetype?



Define your value proposition to physicians

Have I adjusted my value proposition for each of the archetypes I fund or partner with?
Am I clearly articulating my value proposition in a way that speaks to physicians' needs and wants?
Does my value proposition align with what I'm actually delivering? For example, if I say I'm preserving autonomy, how am I doing that?
How does my value proposition compare and compete with others in the market?



Map out the power dynamics of the archetypes you want to work with

Who has the ultimate decision-making power in the organization? (Hint: Decision-making power gets more diffuse as you move from right to left, national chain to service partner.)
Who are the key stakeholders who influence decision-making?