During our recent summit, The Site-of-Care Shift, we convened over 400 health care leaders across health systems, health plans, and industry suppliers to share our latest research on site-of-care shifts. During that time, we polled attendees to understand their perceptions on the shifts with the biggest expected impact to them and market-specific factors that could accelerate or inhibit the shifts. Here are the top takeaways and results from our attendee polls.
Utilize our outpatient shift estimator
1. Surgical care is expected to be the most impactful shift by far, but the shift potential of convenient care clinics was initially underappreciated.
We began the summit by asking which category of shift attendees expected would have the biggest impact in their market over the next five years among five categories that Advisory Board identified as being the most impactful in our research. We asked the same question at the end of our session to see if perceptions had changed. And they did.

Surgical care firmly led the pack both times with around 40% of the vote. Our research showed that ASCs are likely to grow into higher-complexity services—typically associated with higher revenue and profit—which may have swayed opinions.
On the other end of the spectrum, diagnostic care was consistently perceived as the least threatening shift. Convenient care saw the largest increase in expected impact, likely due to anticipated site and service expansion, as well as the downstream referral implications.
Lastly, attendees were bullish on home-based care and digital health coming into the summit but were less optimistic after being reminded of the many challenges that must be overcome with these non-traditional venues.
2. Over 90% of respondents believe their market is undersupplied with ASCs; the bigger threat to hospitals will not be expanding sites though, but rather expanding services.

While the shift to ASCs began several decades ago, only eight percent of respondents believe their market is currently saturated with ASCs. Despite this running room, the overwhelming majority (80%) of attendees stated that the bigger growth opportunity for ASCs is service, rather than site, expansion.
Barriers to growth—including safety concerns, regulatory constraints, and unfavorable reimbursement compared to hospitals—still exist, but recent developments such as additions to CMS' ASC Covered Procedures List and hospital safety and capacity concerns during Covid-19 have enhanced the outlook for ASCs.
Our research supports the notion that growth in service offerings at ASCs will have a significant impact on hospital finances. Traditionally, ASCs have most commonly targeted lower-acuity GI and ophthalmology cases. Now, they are expanding into higher-complexity services in orthopedics and cardiovascular service lines. Total knee arthroscopy, for example, is expected to experience a rapid shift, with some markets already performing over a third of such procedures in ASCs.
3. Health plan steerage is expected to set the pace of shift of imaging volumes out of the hospital.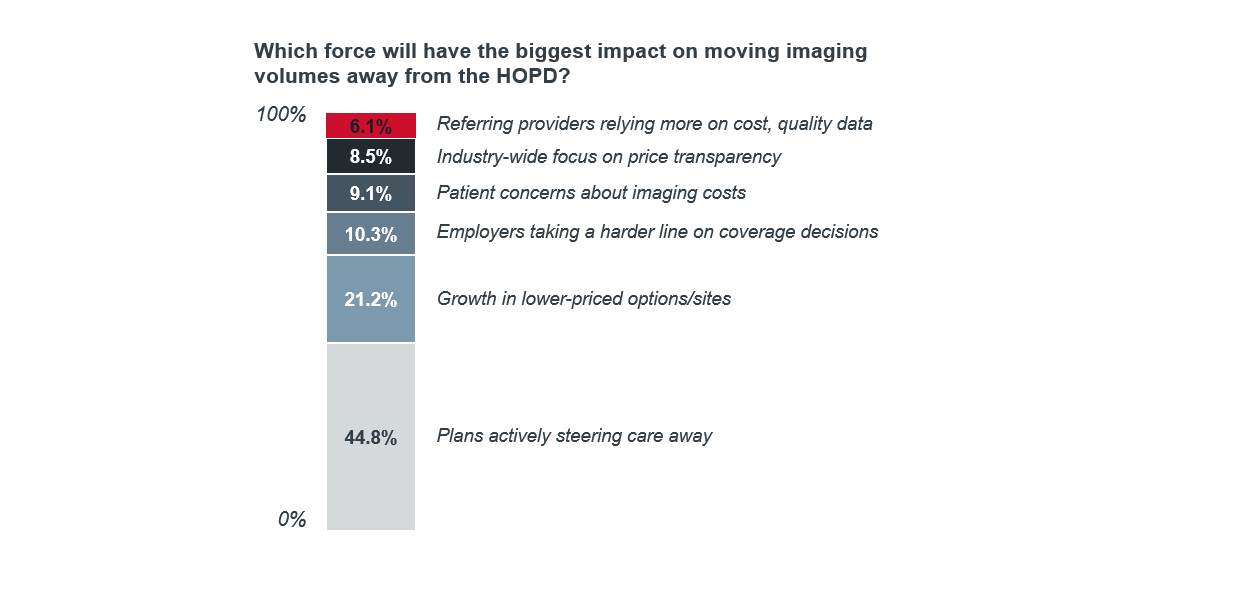 Imaging has all the makings of a service ripe for shift: high price, high volume, elective, and less differentiation on quality. Despite these factors, the HOPD setting remains the dominant site for advanced imaging for approximately three-quarters of markets across the country.
Nearly 45% of attendees think health plan steerage will be the biggest factor in moving imaging volumes further out of HOPD, and with just cause. Plans have adopted more aggressive tactics to steer patients to cheaper sites, such as waiving copays or removing coverage for HOPD. Many of these tactics have been implemented nationwide for several years and are likely to persist and expand.
However, other factors should not be ignored. Our research indicates there is still running room to build out lower-priced imaging alternatives in many markets across the country, but just a fifth of attendees thought lower-priced sites would have the biggest impact on moving volumes.
4. Few think current levels of ED utilization are appropriate, but there are many root causes, and many of them are systemic.
We asked attendees to select one or more reasons why providers haven't made progress on reducing avoidable ED utilization or state whether they thought current levels of ED utilization were appropriate—less than 3% said current levels were actually appropriate.

Nearly 40% of respondents think patient barriers like social determinants of health and lack of patient engagement and education about other care options were reasons for current misuse. And about half of respondents think provider barriers like limited access points or lack of after-hours alternatives are a root cause of the issue.
It is clear there is no quick fix to reducing inappropriate ED utilization, but a concerted effort to address these root cause issues, as well as new approaches such as virtual-first health plans, could help to make progress.  
5. Despite minimal volumes to date, providers are tremendously optimistic about the potential for Hospital at Home.
The Hospital at Home program only recently gained CMS approval under a waiver program (and it's uncertain if the waiver will remain long-term). Unsurprisingly therefore, over 60% of attendees have seen less than 1% of inpatient volumes shift to the home. However, only 4% anticipate staying at 1% in three years.

Two-thirds of attendees estimate that more than 10% of inpatient volume will shift to the home by 2024. Our research supports the belief that a substantial portion of inpatient volumes could shift to Hospital at Home in the future, but the number of markets achieving meaningful shifts in such a short time period will be limited due to significant challenges around scalability.
For starters, building such a program requires recruitment and retention of specially trained home care staff, which have been in short supply. Additional concerns around access to technology, supply chain coordination, physician and patient adoption of the care model, and sustainability in the reimbursement model have to be worked through as well.
Our team will continue to publish research related to our Site-of-Care Shift Summit. Check out our strategy, planning, and growth topic page for content that is released.