What we found: Physician discontent and turnover aren't new
As we dug into the data, we found longstanding trends that just continued during Covid-19. Physician desire to change employment isn't new; the pandemic spotlighted an existing issue. Since 2012, about half of physicians, ranging anywhere from 44% to 51%, have considered a career change, such as retiring early, switching employers, or leaving medicine.[1]

Given these historical trends, the 54% data point from 2021 that we originally found doesn't seem too far out of left field—even with Covid-19 potentially driving these changes.[2] Over a similar time period, annual physician turnover has remained constant at 6-7%—even in 2020 when the pandemic began. [3]
What we predict: We won't see a spike in physician turnover
Based on our analysis, we project that these existing trends will continue. Namely, doctors will continue to be disengaged and unhappy in their jobs but not turn over at significantly higher rates than before. Ultimately, these trends highlight that physician turnover has been resistant to changing market dynamics in recent years, perhaps even a pandemic.
It's also important to note that considering a career change and turning over are not directly correlated. In fact, recent data shows that the gap is quite large. Between July and August 2021, 15% of health care workers considered leaving the industry, but only 6% actually did. And this data is from the larger workforce, not just physicians, who are even less likely to make these changes.
What we'll be watching: 2021 turnover data and market shifts
The elephant in our analysis is that physician turnover data for 2021 hasn't been published yet. However, we've heard anecdotally on our research interviews that while there are some pockets of high turnover, there haven't been significant increases in physician departures across the board. We'll be keeping an eye on the market forces below that could break existing trends and lead to an increase in physician turnover.
While there are many factors that contribute to turnover, we've zeroed in on the most important ones that will tell us whether we need to adjust our projections. Importantly, there won't be a single tipping point, as these forces don't exist in isolation. You're also welcome to use this table to anticipate when your specific market might start seeing more physician turnover.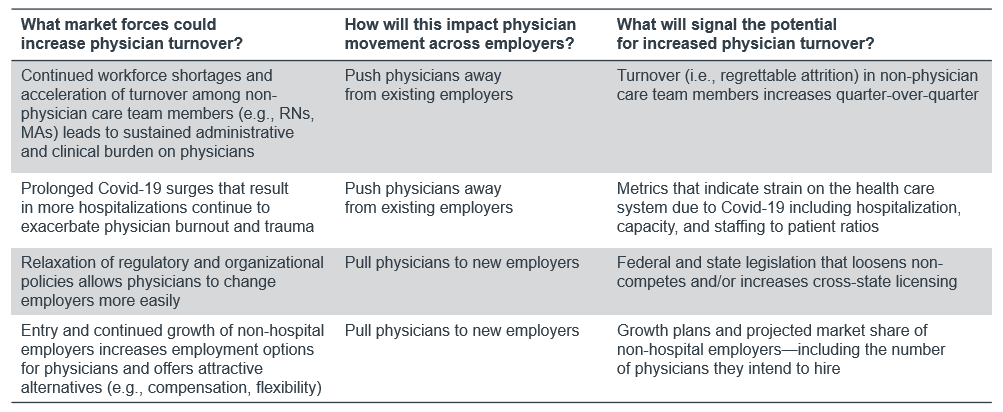 Why this still matters: 3 reasons to address physician turnover
There isn't slack in the system. While physician turnover hasn't skyrocketed, other clinician turnover certainly has, making the consequences more dire. Even physician turnover hovering around 6-7% can strain a health care system with no room to give. At the very least, executives must work to keep physician turnover within its current range or risk making the problem much (much) worse.
Executives can address the drivers of physician discontent. While the pandemic has spotlighted the problem, Covid-19 alone did not cause it. According to recent surveys, bureaucratic tasks continue to be the primary driver of burnout. And the majority of physicians point to their experience as a physician, more than Covid-19, as the cause of their burnout. These are things that executives have direct control over and can fix. Don't use the pandemic as an excuse.
We finally have consensus that workforce matters. For the first time in 20 years, staffing concerns are topping executive agendas. While physician turnover and discontent aren't new, now is an important moment to make long overdue changes while you have the buy-in. We shouldn't simply accept that half of our physicians are unhappy in their jobs.
End notes