Health care organizations have rapidly implemented new technologies in response to the ongoing Covid-19 pandemic. After this flurry of investment, it's only natural for organizations to slow their pace of adoption as they evaluate next steps. This potential lack of urgency, however, can backfire and derail future progress.
Health care organizations must continue advancing their digital strategies in the face of staffing challenges, changing consumer demands, and an ever-evolving competitive landscape. This March, we examined the latest trends in the digital health landscape. Explore our findings below to learn how you can prepare for shifting tides across the digital health ecosystem.
Webinar: 2022 digital health trends
1. Improve consumer digital experience
Twenty-four months into the pandemic, consumers have encountered a whole host of new, digitally enabled touchpoints across health care. Many of these touchpoints mirror the seamless experiences consumers have outside of the health care industry, whether it be the ease of food delivery, the comfort of mobile banking, or the speed of on-demand rideshare services. With a flavor of what their health care could look like in a digitally enabled world, patients don't want to go backwards on experience.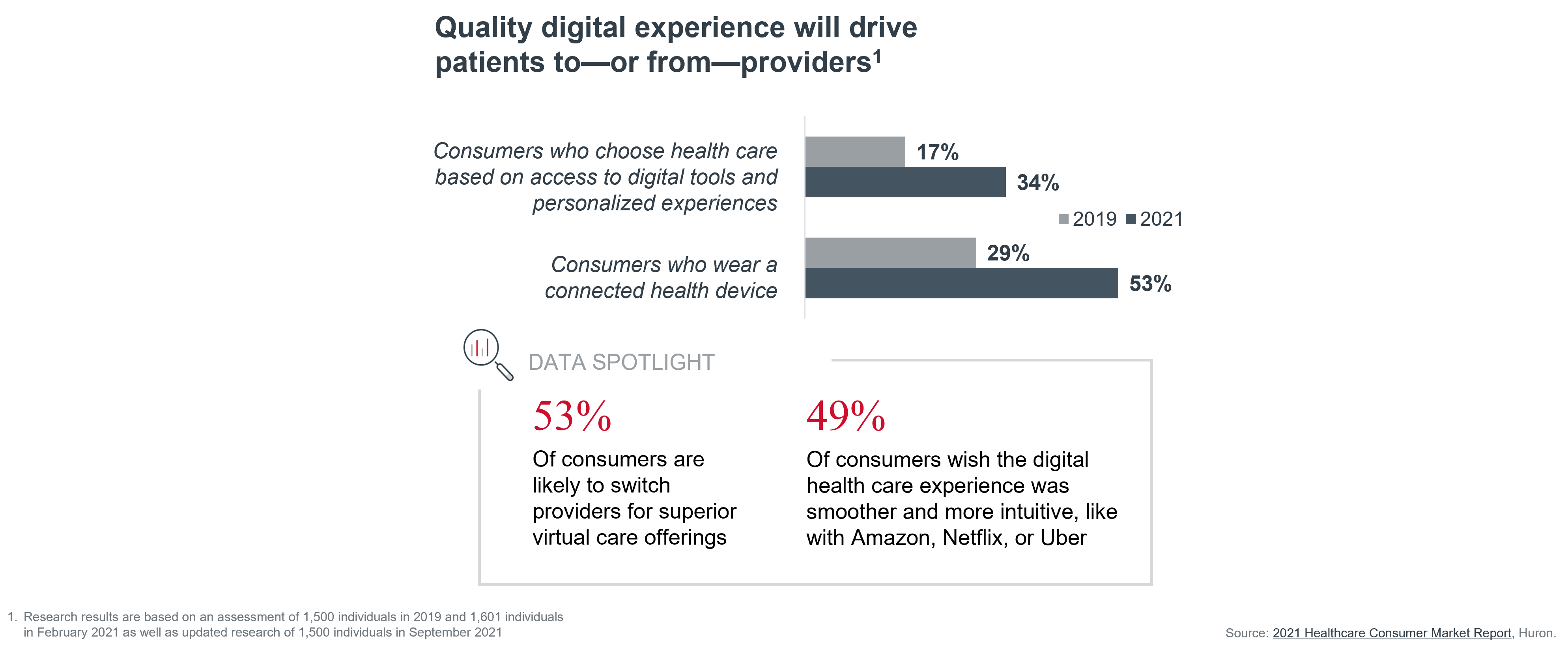 As consumers ring out with this new mandate for digital experience, providers and plans are listening—and bolstering their investments and focus in this space. One survey found a 93% membership increase for health plans investing in digital experience platforms, while 78% of hospitals and health systems plan to increase investment in digital health.
Competitors, like Teladoc-Livongo, Virta, and CVS, also continue to push the needle on experience and digitally enabled care. Even more important—as providers and hospitals roll up their sleeves to tackle this issue, these new organizations have already built their value and vision on being digital-first.
This highlights a fundamental point as we examine digital experience in 2022: It's more than just a positive patient visit or telehealth encounter. To quote one CMO: "We used to think the patient experience began when they walked in the door, or maybe when they called to make an appointment—But now it's when they start surfing the net."

As organizations strive towards a comprehensive digital experience, three imperatives stand out among the rest:
Find the balance in patient-provider touchpoints across the care journey
Expand digital experience beyond the patient visit
Cement digital experience as an organization-wide priority
2. Expand telehealth strategy beyond video visits
Video visits were successfully implemented across the industry, now accounting for over 10% of total visits. Some stakeholders worried that a rise in telehealth would lead to overutilization, but that doesn't appear to be the case. Data shows that an increase in video visits has not increased care usage, but instead has acted as a 1:1 replacement for in-person visits.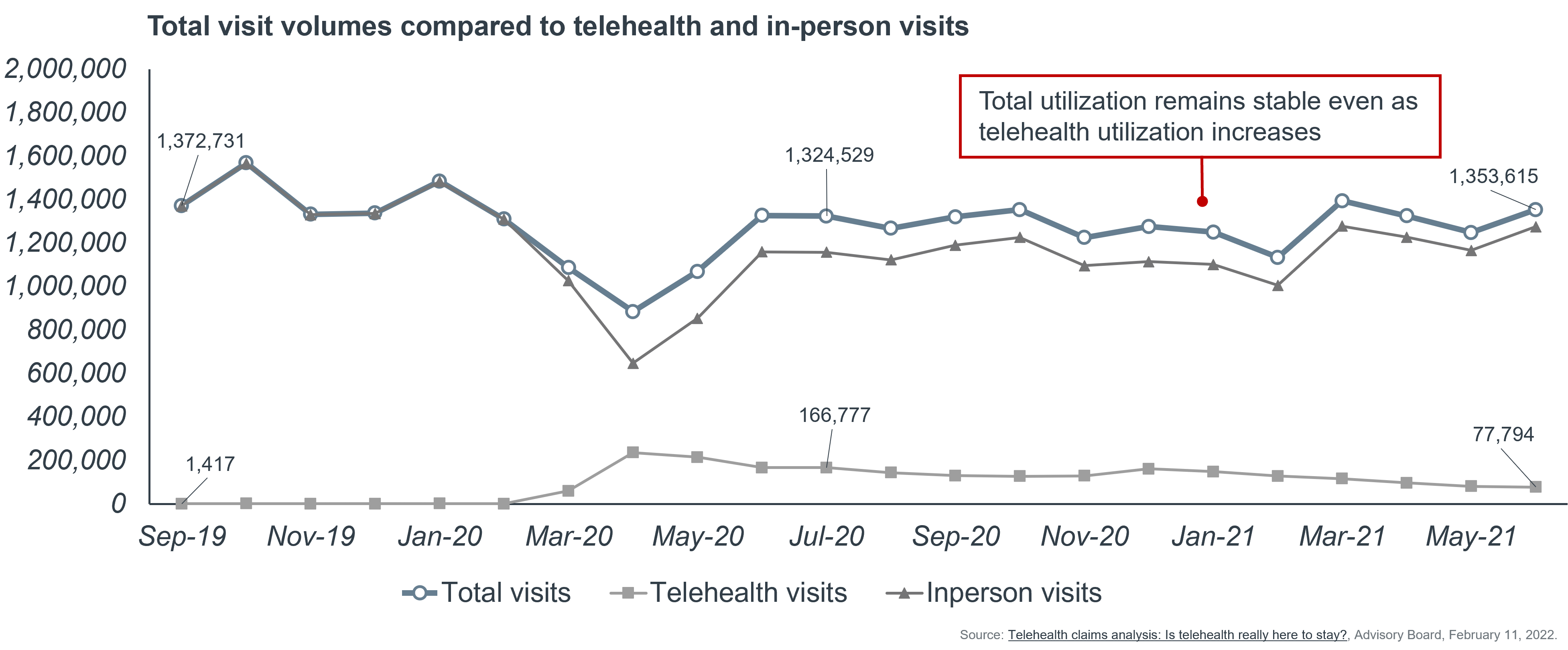 But 1:1 replacement should not be the ultimate goal of increased telehealth utilization. Organizations must be more intentional in considering the potential for all telehealth modalities, especially asynchronous care and remote patient monitoring (RPM). Asynchronous platforms and RPM could create continuous streams of patient-provider engagement, ultimately improving clinical outcomes and reducing overall costs. Health care leaders are not only aware of the need to expand telehealth—they are actively planning on expansion.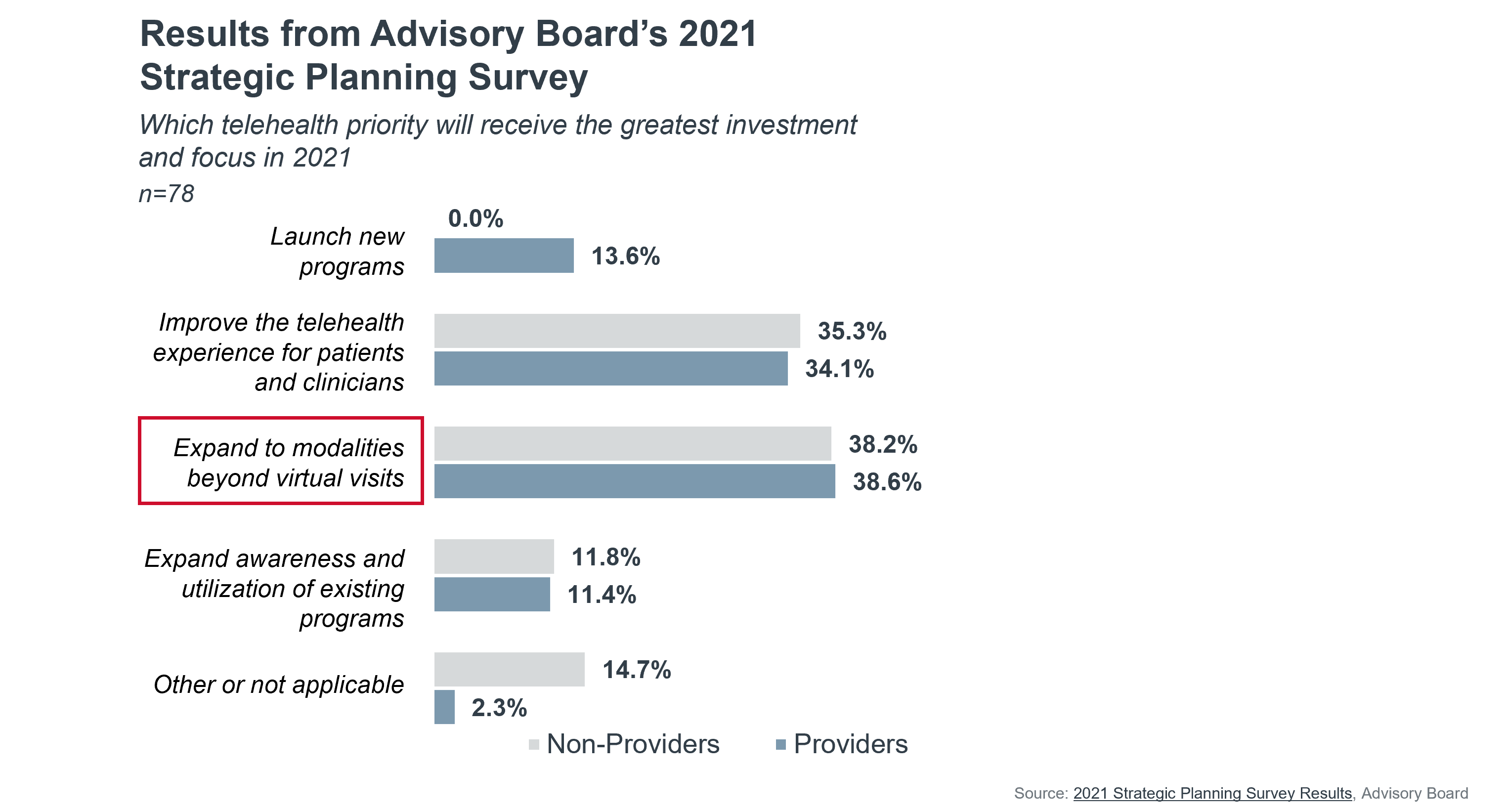 Working towards a holistic approach to telehealth will require us to overcome some major challenges:
Overcome physicians' resistance to sustained adoption of telehealth
Determine high-value telehealth services beyond behavioral health
Operationalize a multimodality telehealth program across service lines
3. Automate rote tasks
There's still a lot of untapped potential for automation in health care. We're only using artificial intelligence (AI) and automation for about 4% of patient interactions today. While we're on the path towards 20% by 2023, that's far from the estimated 60% of health care tasks that have automation potential.
We need to make use of that untapped potential to lighten the load for administrative and clinical staff. Organizations have seen provider burnout get worse over the course of the pandemic. Part of this is driven by the rise of administrative burden. Sixty percent of physicians cite "too many bureaucratic tasks" as a contributor to burnout. And that burnout has a cost: an anticipated 3.2 million health care worker shortage by 2026.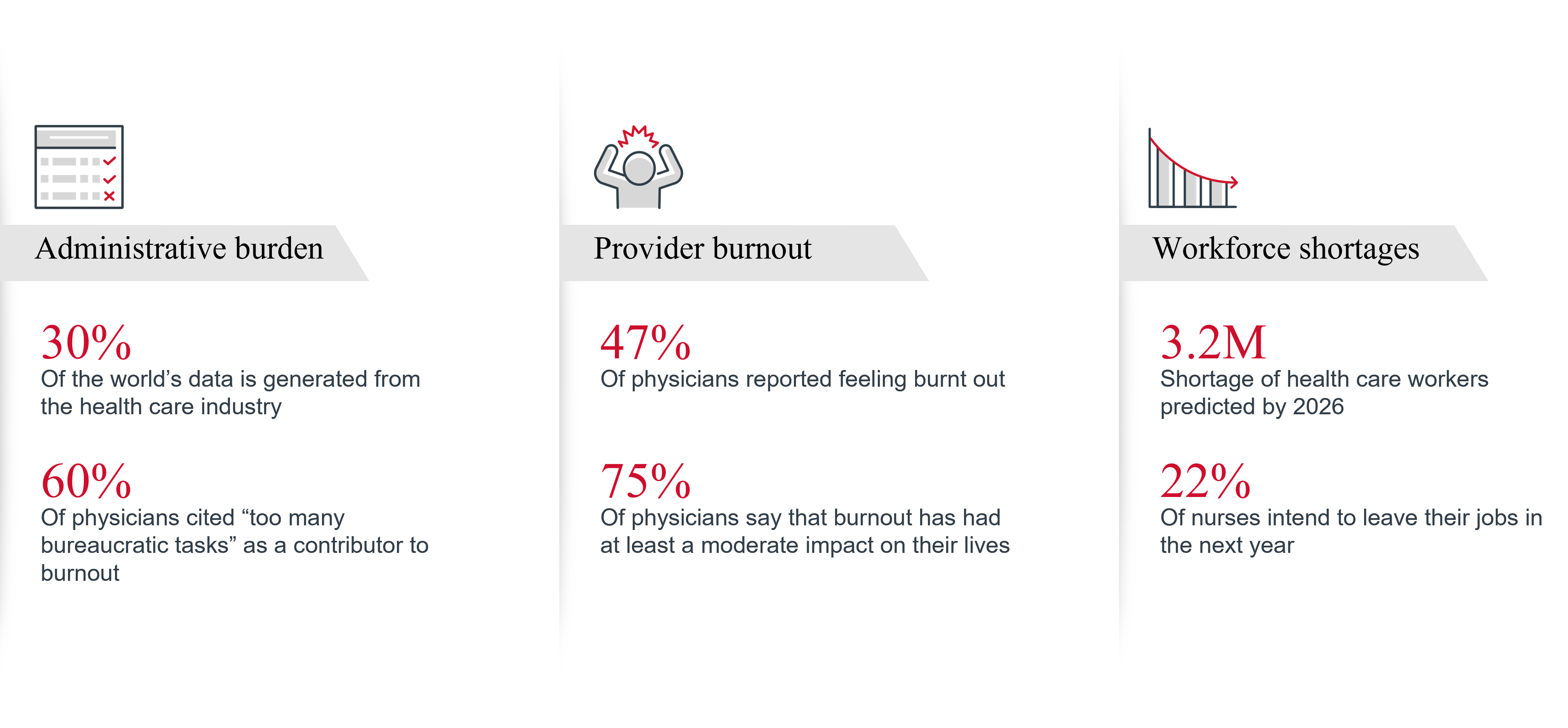 The integration of automation would allow clinicians to focus on their patients and administrative staff to focus on top-of-license tasks, ultimately reducing burnout and extending capacity.
Leaders should consider these imperatives to reach the full potential of automation:
Prioritize the processes that can, and should, be automated
Assign outcome metrics that reflect your goals for automation
Help staff navigate fears about automation replacing them
Find a governance structure that will support the scaling of automation
4. Invest in incrementally valuable AI  
Leaders have shifted their views of AI from being a transformative, essential part of the health system to being a solution that will offer incremental, but still important, value.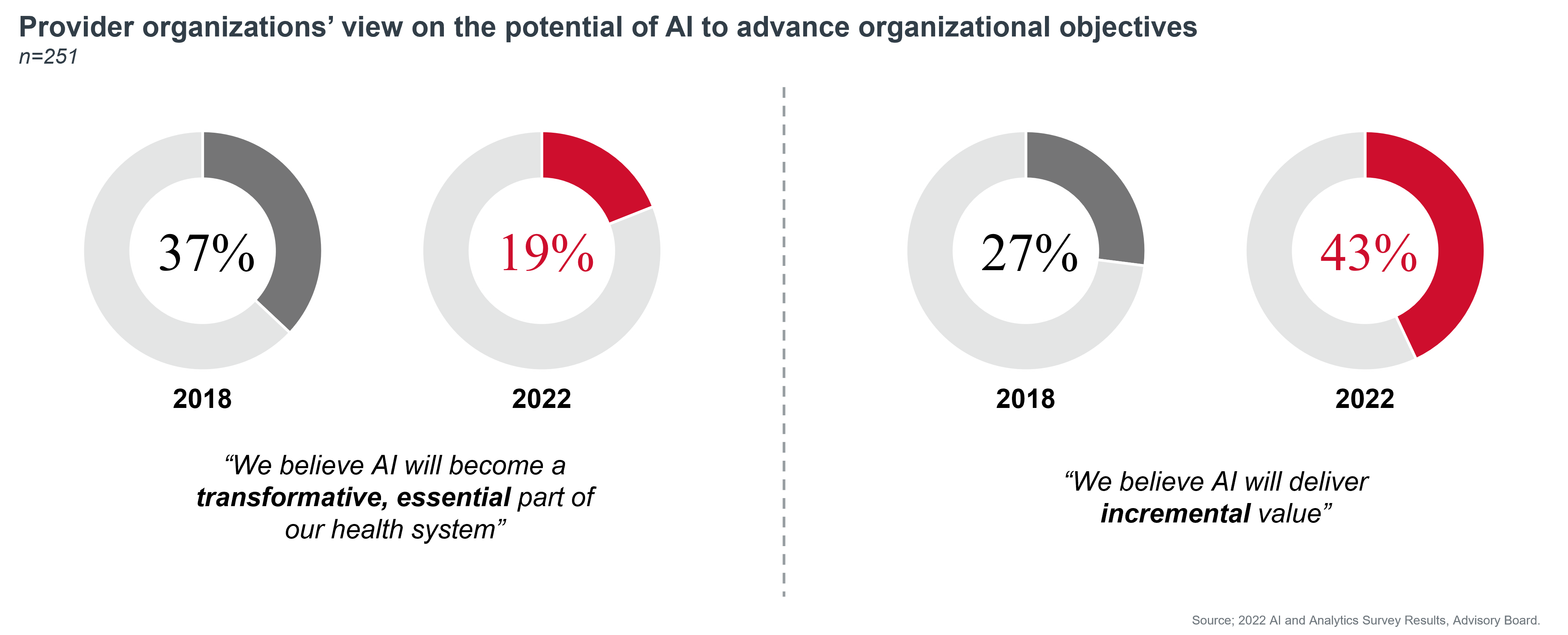 Such a shift of viewing technology as transformational to finding incremental value is a classic cycle for new tech, and we already see it in play across the industry's approaches to AI adoption. Before actualizing AI's transformational power in health care, smaller, more focused initiatives have been critical in cementing its incremental value. Health care AI has been instrumental as an international viral spread prevention tool amidst the Covid-19 pandemic. Its use in deep learning models has uncovered racial biases in patient pain, while health care startups have harnessed the technology to identify new precision treatment protocols for cancer patients.
Simply put, each and every application of AI is already paving the way for its transformational future. But arriving there won't happen overnight. Our research points to three imperatives that must be considered before this is possible.
Determine AI applications by functionalities rather than by its technological definitions
Acknowledge the role of bias in AI and account for underlying disparities
Streamline data structures and workflows