Population aging will reshape health care demand. In some ways, we're preparing for the change—we've seen an explosion of investment in MA models and other services for older adults entering the Medicare population. We've seen comparatively little focus on the care needs of the fastest-growing part of the population: people over age 85.
Infographic: Caring for an aging population: Past, Present, Future
That's a problem because that part of the older adult population needs more care—and uses different-in-kind services. If we don't prepare to meet the care needs of that segment of the population, we'll see a disproportionate impact on health care utilization that Medicare probably can't afford.
To size the challenge, we did some quick modeling of how inpatient utilization will change based on population trends. We broke down Medicare fee-for-service inpatient hospital utilization by age group, then projected how volumes would change based on Census projections of population growth.
See the topline results in the chart below, then read on for our three takeaways.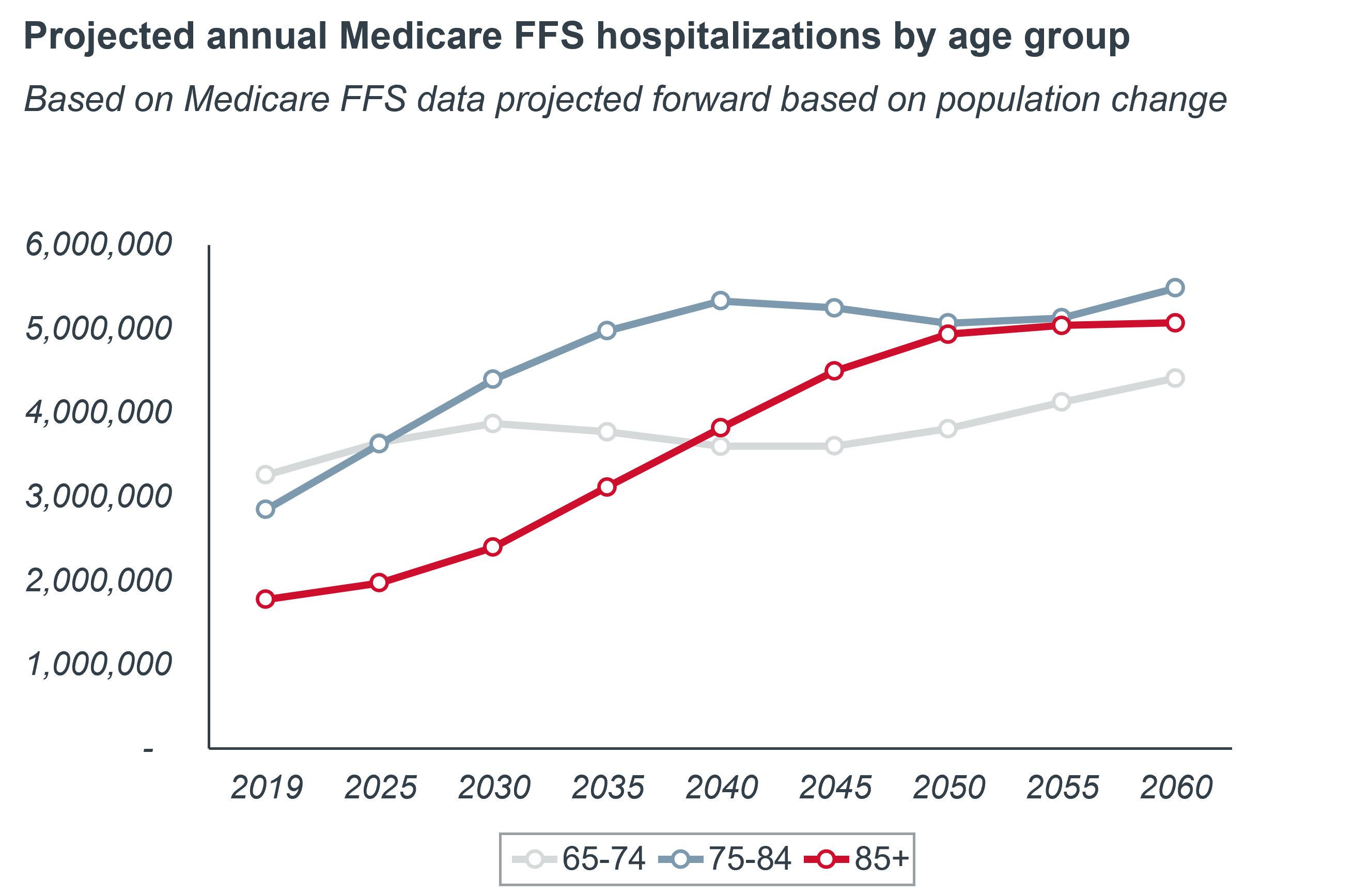 1. Medicare hospitalizations will almost double by 2060
While the population over 65 will grow by two thirds by 2060, hospitalizations will almost double. That's because the older parts of the population, which have more inpatient stays, will grow fastest.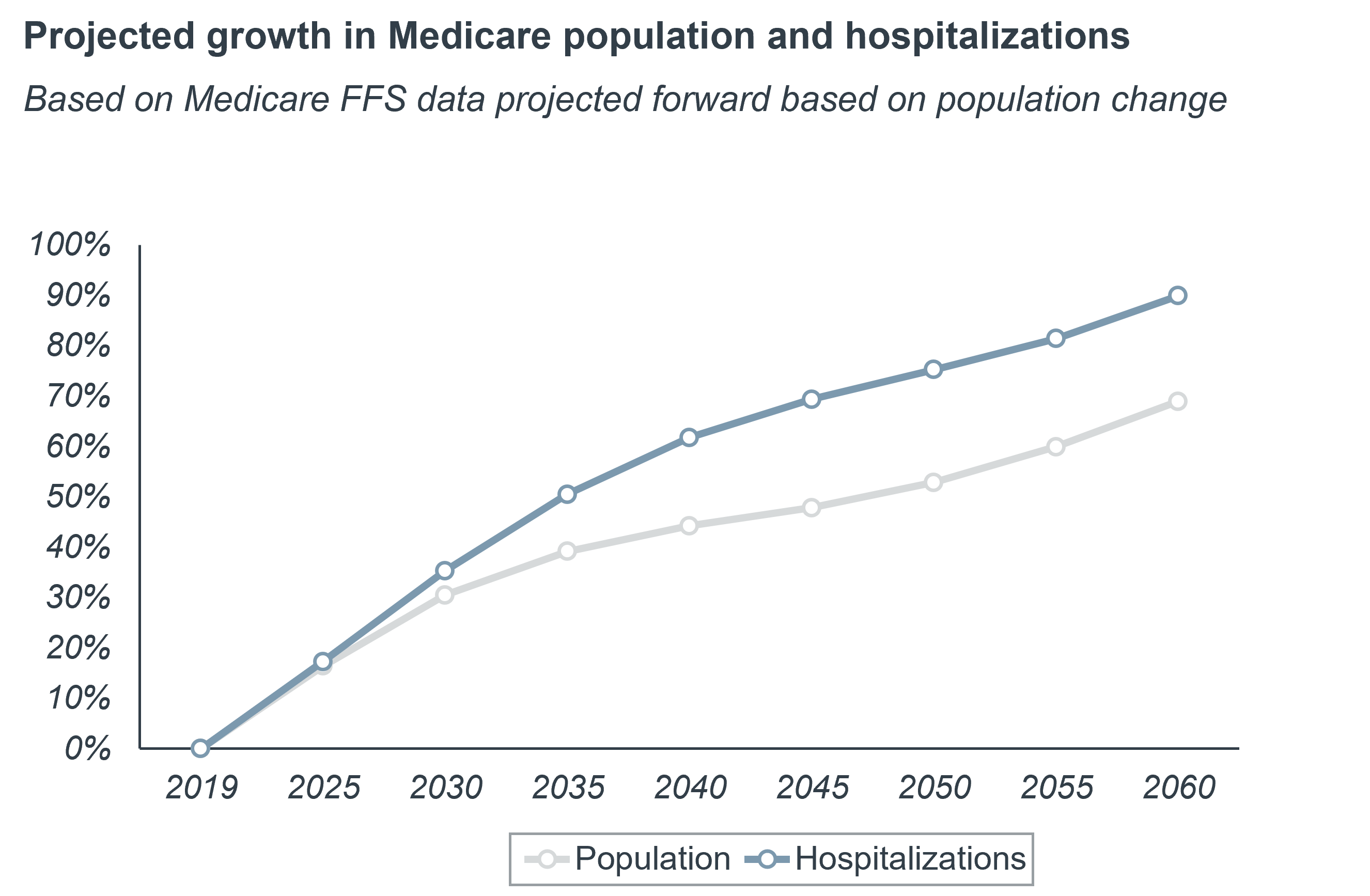 Unless we can also double our hospital infrastructure—the number of beds, clinical staff, and other resources—we'll need to change how we deliver care.
2. Hospitalizations for age 85+ adults will more than double, concentrated in medical services
Other things equal, hospitalizations for adults aged 85-89 would more than double. Those for adults over 90 would more than triple. While adults over 90 will remain the smallest segment of the population, growth in the 85+ segment has outsized impact on hospital utilization.
Not only will they need more care, but also different care than younger seniors. Adults over 85 are hospitalized more often and more frequently for medical—rather than surgical—encounters.
Given growing surgical volumes, that poses a dual challenge. Hospitals would need to expand both surgical capacity to meet rising demand and infrastructure to care for older, more complex patients with medical needs.
3. Hospitalizations are an indicator for other utilization
We started our analysis on inpatient hospital volumes because they serve as a proxy for overall health care utilization. The 85+ population needs meaningfully more hospital care than other parts of the population. That pattern also likely applies to other parts of the health care ecosystem.
Vastly increased utilization by the 85+ population won't be limited to hospitals. Innovation needs to change how we deliver care across the health care ecosystem. Otherwise, we'll find our health care system overwhelmed and underprepared to manage the impact of an aging population.
Innovators and investors will need to take a cross-industry view to increasing capacity and managing demand. Connections across the health care ecosystem mean that changes in one part of the industry will ripple across markets.
For example, if post-acute capacity doesn't increase to meet rising care needs of the senior population, then hospitals will need to hold patients for longer, increasing the cost burden on hospitals and delaying acute care for patients. Improvements in primary and secondary care could reduce the need for hospitalizations—as could site of care shift to office, ambulatory, virtual, and home care.
What we're working on
What you'll see coming from us in the next months: we're expanding our model to include other settings of care and other factors associated with aging, like a changing burden of chronic diseases or patient demographics.
Our goal is to provide you with a sense of how population aging—and especially the growth of the 85+ population—will reshape health care in the future so that you can find the right partners and innovation models to prepare.