Health plans have made some high-profile investments to address the social determinants of health (SDOH) in the last few years. We get a lot of questions from plan leaders about how they measure up to their competitors and where they land on the health equity maturity model. But there's no comprehensive tracker of health plan investment in this space.
Download our health plan SDOH market scan here
Advisory Board partnered with Optum Advisory Services' Center for Health Equity to produce a market scan of the investments plans are making to address the SDOH.
How we conducted our analysis
We spent several weeks reviewing health plan websites, research articles, and press releases to identify initiatives targeting SDOH. We built a tracker of these interventions to capture as much detail as possible and tagged each initiative to at least one of six social determinants of health: food, finances, social context, education, environment, and technology.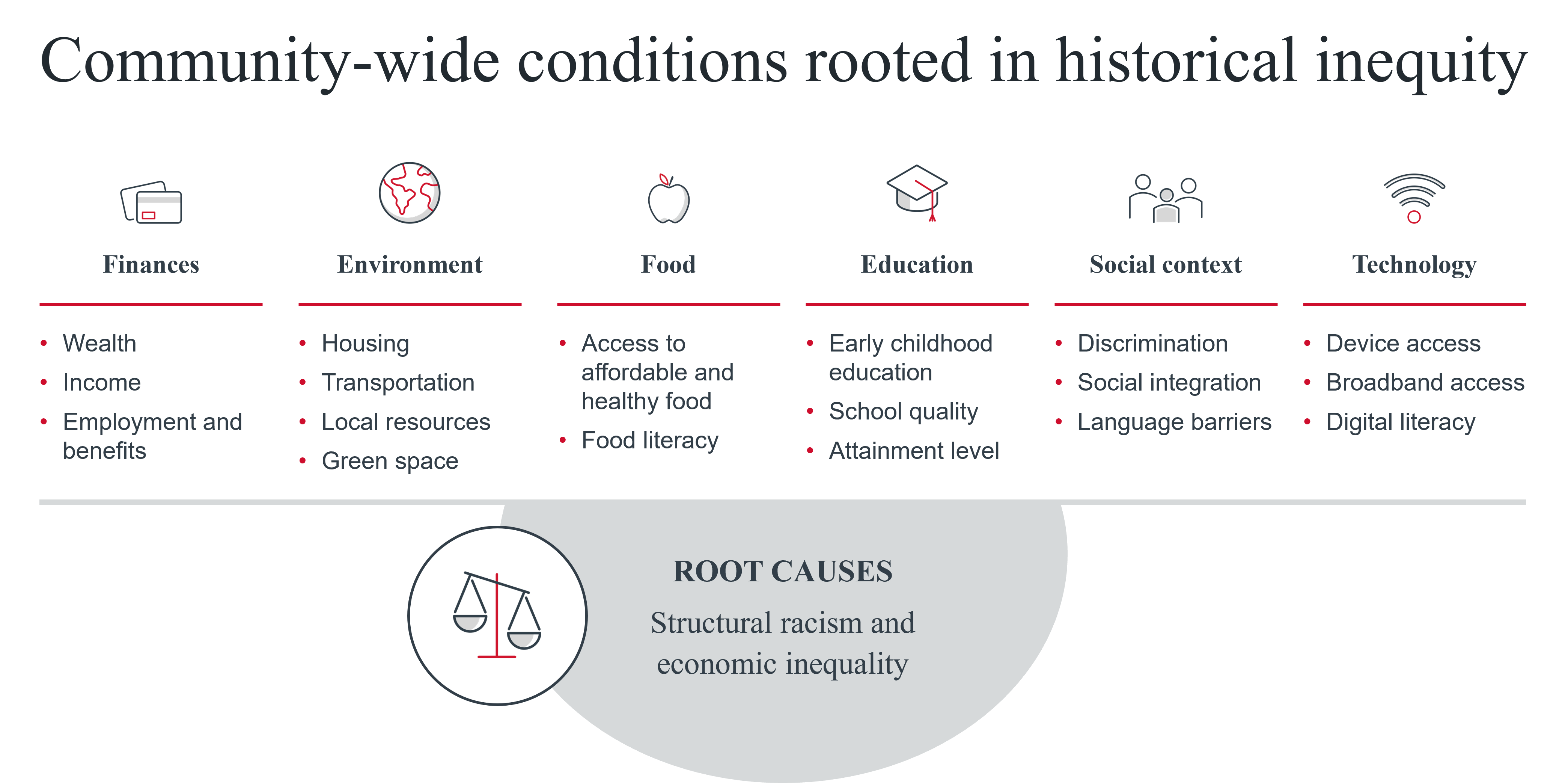 Our list of interventions is not all-encompassing. Interventions included in the tracker represent only those publicly available during a particular snapshot in time, and the details published per intervention varied.
What we found about how health plans are addressing the social determinants of health
Here's an overview of the initiatives we surfaced:
Our analysis revealed three insights that can help health plans assess and improve their performance.
Takeaway #1: Many interventions that were positioned as SDOH efforts did not meet our bar for inclusion
For example, one-off volunteering opportunities or wellness initiatives, while potentially beneficial for other reasons, are unlikely to address the community-wide conditions that impact health, nor their root causes of structural racism and intergenerational poverty. Our final list includes interventions that had a clear focus, outlined an end goal, and used research and data to support its necessity.
What this means for health plans: Precision in language matters—if the definition you use for SDOH is overly broad, your organization may inadvertently invest in interventions that won't make a true impact. Not only does that waste limited resources, but you risk alienating target populations when you don't fully deliver on your promises.
Takeaway #2: Investment size varies widely (when it's publicly available) and isn't evenly distributed across the SDOH
Of the 32 initiatives we assessed, we were only able to locate the investment size of 19 interventions, which ranged from $7,500 to $1,000,000,000 (over various time periods). The largest investments typically targeted the environment domain, which includes housing—naturally costly expenditures. Social context (e.g., social isolation, prejudice) was the smallest area of focus by investment size.
What this means for health plans: Transparency is critical for accountability, including and beyond financial investments. And when selecting your focus, consider current gaps in efforts (in addition to other criteria, like community need and feasibility). More initiatives are needed to help people get the social support they need, specifically interventions that combat discrimination and increase social integration.
Takeaway #3: Investments with a measured impact were few and far between
Out of the 32 initiatives that met our inclusion criteria, only four had published outcomes. But the outcomes we did find were powerful. One program boasted a $6,000 annual health savings per member after providing housing for individuals experiencing homelessness. Another health plan was able to decrease emergency department utilization by 26% and inpatient hospital stays by 55%.  
What this means for health plans: Tracked outcomes are essential for assessing the value of investments in addition to securing long-term protected funding from leadership. Even published outcomes from other organizations can go a long way in shaping our understanding of what works and what doesn't. Select meaningful metrics and share your progress widely, early, and often.
How health plans can move forward
Many health plans have invested significant time and resources to address the SDOH impacting their members. While leaders should celebrate this progress, it's also important to assess how to improve and maximize our impact.
Across investments, don't forget to work with providers and community partners who are often operating similar efforts separately—sometimes it's better to lead from behind and dedicate resources to those already doing work on the ground.
And while financial investments can be powerful, health plans can make a unique difference in the SDOH sphere by looking at internal operations. In particular, plans can play a role in advancing providers' adoption of Z-codes by reimbursing for SDOH screenings and social service navigation.