Providers should deploy automation as a tool to deliver on their strategic goals broadly rather than limiting their focus to cost reduction. Automation can improve efficiency by reducing per unit costs. But taking a problem-oriented approach –targeting point solutions to individual, inefficient workflows – guarantees that the benefits will not extend beyond the endpoints of those problems. It constrains both the use case for and ultimate impact of automation.
Providers that look at automation as a means of improving user experience broaden their opportunity for impact. These providers are using the same technology to address both the process and people sides of their greatest ambition: delivering high-quality, low-cost patient care. The result? A better patient and provider experience in addition to streamlined workflows and financial benefits. In other words, they get a bigger bang for their buck.
Taking a goal-oriented approach forces providers to look beyond the back office toward improved experience for patients, staff, and clinicians.
Improved patient experience
Every provider we spoke with pointed to a service like TurboTax or online banking and said, "we should be able to offer that kind of experience."
This user-friendly experience was Intermountain's goal: after working for two years on EHR-based solutions to try and increase the completion rate of patient intake forms, Intermountain achieved only an 11% completion rate. Automating the patient intake experience – including extracting information from the EHR and auto-populating it for the patient to sign off on, rather than manually input – increased that number to 70%.
Offering an integrated, seamless experience has multiple downstream benefits. Taking patient registration as an example, successful registration improves patient satisfaction and retention, both of which have positive implications for clinical outcomes. It's associated with decreased denials, which means a healthier revenue stream and less downstream administrative work. And making the registration process user-friendly removes barriers to patient access. Deploying automation to improve experience yields holistic returns.
Lowell Community Health Center focuses on patient experience to improve access and health equity
Lowell Community Health Center, an independent FQHC1 serving Lowell, Mass., is using intelligent automation to improve access to care for all patients, regardless of demographic or socioeconomic background. Lowell CHC serves a diverse community: 40% of its patients are best served in one of over 60 languages other than English, including Spanish, Portuguese, Khmer, Swahili, Arabic, and Vietnamese. The system relies heavily on community health workers (CHWs) to engage patients outside the walls of the health center. With a growing patient population, Lowell CHC needed a solution to scale the capacity of each CHW while preserving their ability to cultivate personalized relationships.
Lowell CHC invested in an intelligent automation solution to streamline patient registration, from anywhere. So far, it has used the platform to facilitate patient intake and maximize registration for COVID-19 vaccines among under-represented groups. Consistent with its commitment to health equity, Lowell CHC has deployed the platform in multiple languages to best engage its community members, minimize language- and ethnicity-based health disparities, and improve population health.
Since deploying the intelligent automation solution, Lowell CHC has seen an increase in digital patient engagement, including successful completion rates for end-to-end registration and scheduling.
"Traditional workflows have been one of the biggest barriers to patient access. If we can't meet our diverse patient needs, we will never deliver on our promise to provide an equitable health care system."
Brenda Rodriguez
CFO/CSO, Lowell CHC
Improved staff experience
Documentation burden is one of the primary drivers of staff dissatisfaction, burnout, and ultimately turnover. Not only does it involve ample below-license work, it distracts from patient care. Our research contacts pointed out that provider organizations regularly have over 10,000 work queues in their EHR; there are hundreds of acceptable ways to denote "take one tablet by mouth daily" and over 80% of EHR data is unstructured. There are terabytes of information inundating staff every day, but it's nearly all noise and very little signal. Staff-facing intelligent automation can minimize the number of manual touchpoints required per task across each use case. The result is staff and clinicians working at top of license.
Staff experience-driven use cases for automation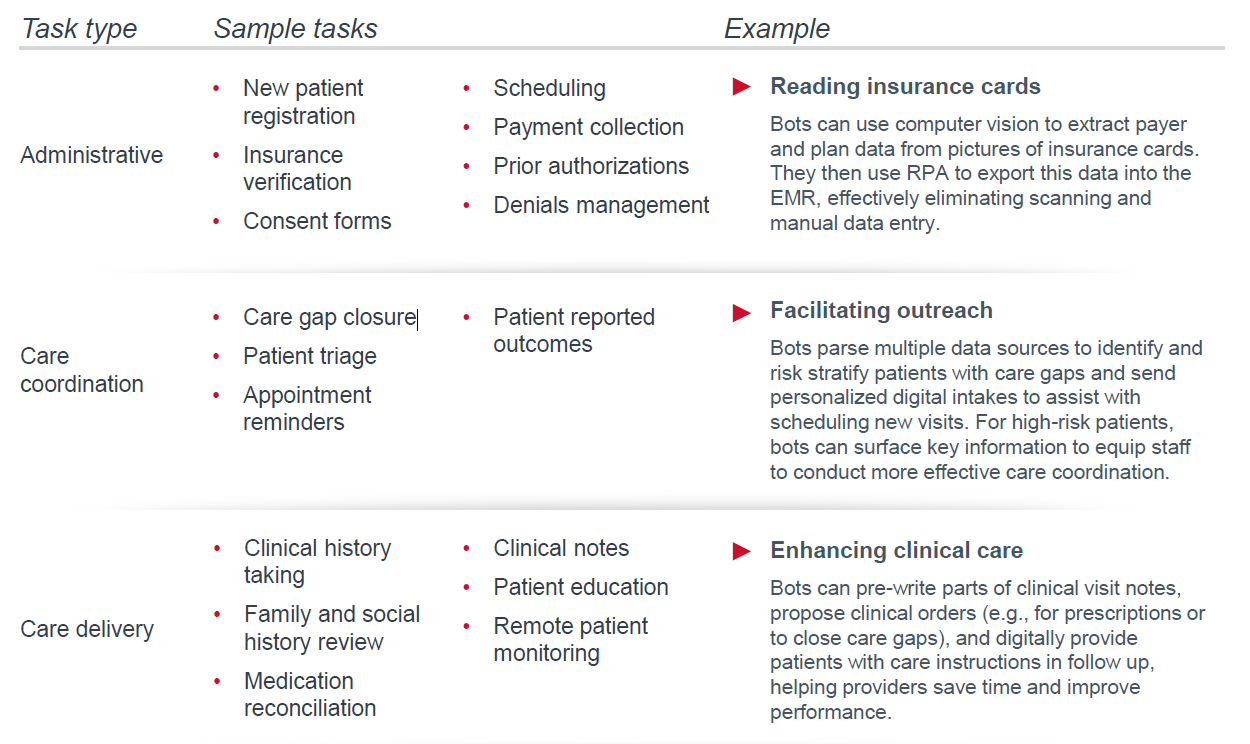 Ultimately, these are three flavors of the same thing – the same technology applied to meet individual stakeholder needs. Taking a goal-oriented approach doesn't mean provider organizations forego the financial benefits of automation. Rather, it means they're not limited to them.